Nozstock Festival – The Hidden Valley

Tickets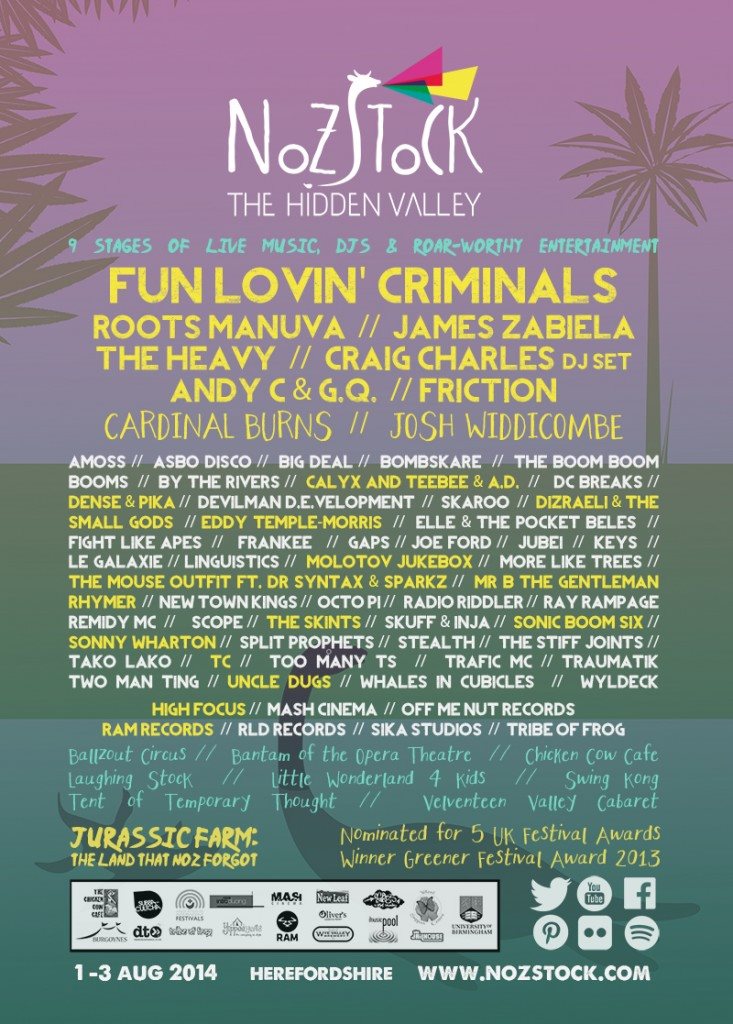 An intimate family run festival of performing arts, which takes place every summer, and brings together rock, indie, ska, world, folk, hip hop, drum n bass, dubstep, breaks and house, psytrance, cabaret, comedy, theatrics indoor and out, film and kids entertainment to an intimate farm deep in the rolling hills of Herefordshire.
Nozstock Festival takes place at a farm near Bromyard, Herefordshire from Friday 1st until Sunday 3rd August 2014.
Line-up
Latest additions are Cardinal Burns, Pat Cahill, The Fetch, Tom Rosenthal, Brian Gittins, Brett Goldstein, Rob Carter, Tom Davis, and Matt Rees. Plus Velveteen Valley Burlesque Tent acts Ophelia Bitz, Amber Rosia, Beulah Bell, Ursula Dares, Oh! Carolina, Twinkel Pink, Florence Fontaine, Bella Donna Berry, and Owen Niblock.
They join headliner Roots Manuva, plus The Heavy, Molotov Jukebox, Craig Charles, James Zabiela, The Skints, Mr. B The Gentleman Rhymer, Friction & Linguistics, By The Rivers, Fun Lovin' Criminals, Charli XCX, Sonic Boom Six, Eddy Temple Morris, Dense & Pika, Radio Riddler, The Skints, Cinc Sound, SemTex, Flash Harry, Dizraeli and the Small Gods, Mouse Outfit ft Dr Syntax & Sparkz , Tako Lako, Too Many T's, More Like Trees, Le Galaxie, Gaps, Big Deal, New Town Kings, Asbo Disco, Benji Tranter, Typesun, Two Man Ting, Stiff Joints, The Remedy, Jess Morgan, Sketchbeat, Paper Tiger, Caolin Clay, Al and The Sorry Seaguls, The Knights Project, Pip and the Polar Bears, The Mourning Suns, Immi Grant, Low Cost Life, The Captains Daughter, Split Prophets, High Focus, Off Me Nuts Records, RLD Records, Skuff & Inja, Devilman D.E.Velopment, Traumatik, Defenders of Style, Stiff Joints, Sonny Wharton, Andy C & MC GQ,Calyx & Teebee, MC AD, DC Breaks, Frankee, Ray Rampage, Octo-Pi, Koncept, Mat Envy, DJ Hampsta, Bwalya, TC, Jubei, Uncle Dugs, Joe Ford, Amoss, Despicable Youth, Scope, Modify Perspective, MC Remidy, Trafic MC, The Twisted Burlesque DJs, Electric Swing Ballroom, Mr Bliss, Phat Tony, Jitterbug, Edd Tipton, and Sketch.
For the line-up details and stage splits, click here.